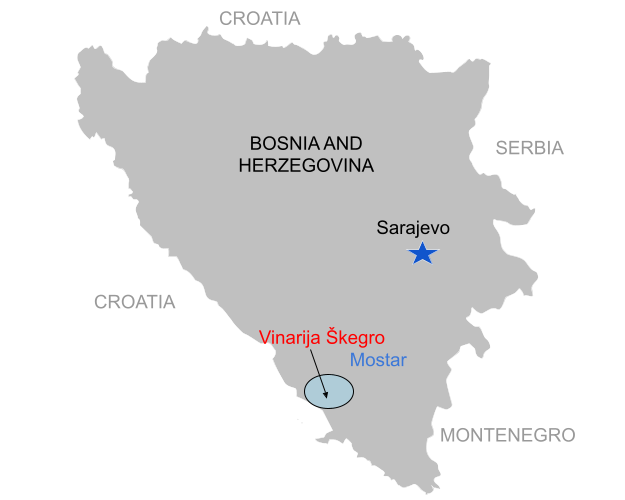 At a Glance
1996
https://www.facebook.com/vinarijaskegro
Mostar
Sub-Mediterranean
Herzegovinian karst
130-150m
South-facing terraced vineyards, olive trees on rocky soils
Žilavka, Blatina
2 hectares
Organic
Natural
Our wines are a reflection of the dedicated work and energy we invest. A reflection of Herzegovina and its natural beauties. Together with wines we learn and grow. — Bariša Škegro
Bosnia and Herzegovina is one of the less understood, least travelled and has the smallest representation in our portfolio. This isn't by choice, but simply because it's at the fringe of where the portfolio got its foothold in Central Europe. It's also a complicated place. It's not just the Federation of Bosnia and Herzegovina, but also the district of Brčko and the Republika Srpska. Most estimate that there are around 60 commercial producers in the whole country, and maybe 20-30 with enough production to potentially export. The vast majority of 11,000+ growers have less than a couple of hectares and everything is sold locally or for home consumption.


And compared to neighboring countries like Serbia and Croatia, it's often difficult to find quality domestic wines at restaurants and markets. You'll likely see French, Italian, or Slovenian wines featured over local producers. It's very similar to what I've witnessed in Istanbul with Turkish wines – the local stuff if back page with little regard. Perhaps this is because they import five times more than they export, but there's something else going on too.

Bosnia and Herzegovina is also somewhat unfairly, at least given my Western education, defined by some of the worst tragedies of the past 100+ years. The first things that often come to mind are the assassination of Archduke Franz Ferdinand in Sarajevo that ignited WWI, the Yugoslav Wars (worst conflict in Europe since WWII), ethnic cleansing, and the only official Genocide since WWII. If you're old enough to drink today, you were born right when the worst of that fighting ended.

And while there are still bullet holes and other visible evidence of these atrocities when you visit cities like Mostar and Sarajevo, we perhaps gloss over the fact that Bosnia & Herzegovina hosted the 1984 Winter Olympics and had a lot of promise to celebrate. Four centuries of Ottoman rule had a drastic impact on Bosnia's population, architecture, food and culture. Combined with Hungarian/Hapsburg and native Slavic influences, there's a kaleidoscope of flavors at every market and in every bottle. The city of Mostar and its iconic Old Bridge are among the most memorable and stunning places we've ever visited.


And while they cannot compete with Croatia's tourism, it would be easier to invest in things like vacation real estate than say plant vineyards and olive trees. Like many wine regions in Central and Eastern Europe, with borders now open, the younger generations are flocking to the big cities or abroad. The Škegro family is no exception to this trend. That said, in 2005 vineyards and olive trees were planted and the pull has become stronger and stronger every year. These are the kinds of investments that keep the families connected, traditions alive, and on a purely selfish level, allow us to drink delicious wines that cannot be produced anywhere else.

The People
If there's a red line that connects the whole family it's soccer. Bariša was coached by the late Josip Katalinski Škija who played professionally at home and abroad and gained hero status for scoring the pivotal goal that got the Yugoslav national team into the 1974 FIFA World Cup. Bariša's father Mirko also played for NK Ljubuški (local club) and is now the assembly chair for the team. There's immense pride in the quality of players that come from this little village that have gone on to make a name for themselves in the greater world. The philosophy is exactly the same in the winery and in the vineyards. Škegro is one of very few wineries in all of Herzegovina that sells the majority of its wines abroad. A point of pride that ties this all together is that Mario Stanić comes to the cellar to buy the skin contact Žilavka. Stanić had a prolific career as a professional soccer player at home and abroad. He scored Croatia's first-ever World Cup goal.
Vineyards
Most of what we are drinking now is from vineyards planted in 2005 in the small village of Radišići (part of larger Ljubuški) in the southwestern part of the Federation of Bosnia and Herzegovina. Their 2 hectares of south facing terraced vineyards are cut into the hillside at around 130-150 meters. The soil is deep calcareous marl along with unforgiving layers of sandstone and flint. Less than an hour from the Croatian coastline, the climate is Mediterranean with screaming hot summers and mild winters.


Along with fig, citrus, and pomegranate trees, they also grow and produce some exceptional olive oil from 300 trees consisting of Oblica, Pendolino, Casaliva, Lastovka, Levantinka, Leccino and Cipressino olives. Originally planted by Bariša's grandfather (who also adorns the Žilavka label), they plan to plant another 300 trees in the coming years. They are planted in the vineyard and elsewhere where they help mediate erosion of the rocky soils. The olives and grapes have a symbiotic relationship and help create a garden of pollinizers. We wish we could pour them side by side. Both share a healthy and full ripeness without sacrificing freshness and acidity.

As for the farming, vines are trellised, cover crops are natural although sometimes they will plant oats, granola and or barley in the winter. Manure or organic fertilizer is applied when needed along with copper and sulfur. They do not use herbicides or pesticides. As the vines have become more established after years of drought conditions, they are moving towards organic certification. At only 2 hectares, everything is done by hand.

Winemaking
All grapes are hand picked and more or less split between whole cluster pressing and whole berry pressing. Maceration mainly takes place in open plastic vats and some in stainless steel. All fermentations are spontaneous and the only addition is SO2 if at all. Malo, settling and aging are typically in 225L neutral oak and stainless steel. All wines are bottled unfiltered.
Blatina;
14%
2.9 g/l
5.47 g/l
Blatina is not the easiest to grow because it only has female flowers. Much like Kéknyelű up in Hungary, it needs pollinators to get a proper fruit set. The 2019 Krš Crni is therefore a field blend dominated by Blatina along with the pollinators Trnjak and Kambuša (Petit Bouschet x Alicante). The Kambuša has Teinturier parentage, so it adds a ton of color and the Trnjak adds body and tannins. Picked and co-fermented together with 8-10 days of maceration in stainless and plastic bins, this is an ideal introduction to the estate. And much like the Žilavka, it's not shy with ripeness, but tempered with light extraction without sacrificing acidity. There's warmth in the form of spice, but not heat in the form of alcohol.
Download PDF Fact Sheet

---
Žilavka;
12.5%
The amber color belies the energy and brightness of this grape. There's some DNA evidence to suggest it's related to Glera, but we've also heard that it's related to Furmint despite lacking hard evidence to back that up. To be fair, it is late ripening, has super compact bunches, and is prone to botrytis. It's easy to see where the Furmint argument stems. It's also not a skin contact wine where everything is just dangling together like a fragile mobile hanging over a baby's crib. Žilavka is one of the few native whites that can weather the hot, dry and unforgiving Herzegovinian growing season without dropping acidity. Žilavka translates as both deep rooted and veiny (you can varicose like veins on the berries when ripe). And this 2018 is ripe. It wasn't picked too early in order to manage sulfur additions or over macerated or hard pressed to gain extraction either. It's actually quite soft in terms of tannins nor is it hot in any way (12.5%). Spontaneously fermented in open vats, it's then on the skins for around 15-20 days, barreled down to 225L neutral oak for 6-8 months (no lees stirring), then bottled unfiltered with zero additions of any kind. This is a rare treat from the Balkans. Only 997 bottles were produced.
Download PDF Fact Sheet

---