"Our goal is to transform Szekszárd into an internationally recognized, high-end wine region capable of appealing to the most sophisticated and curious wine lovers." — The Heimann family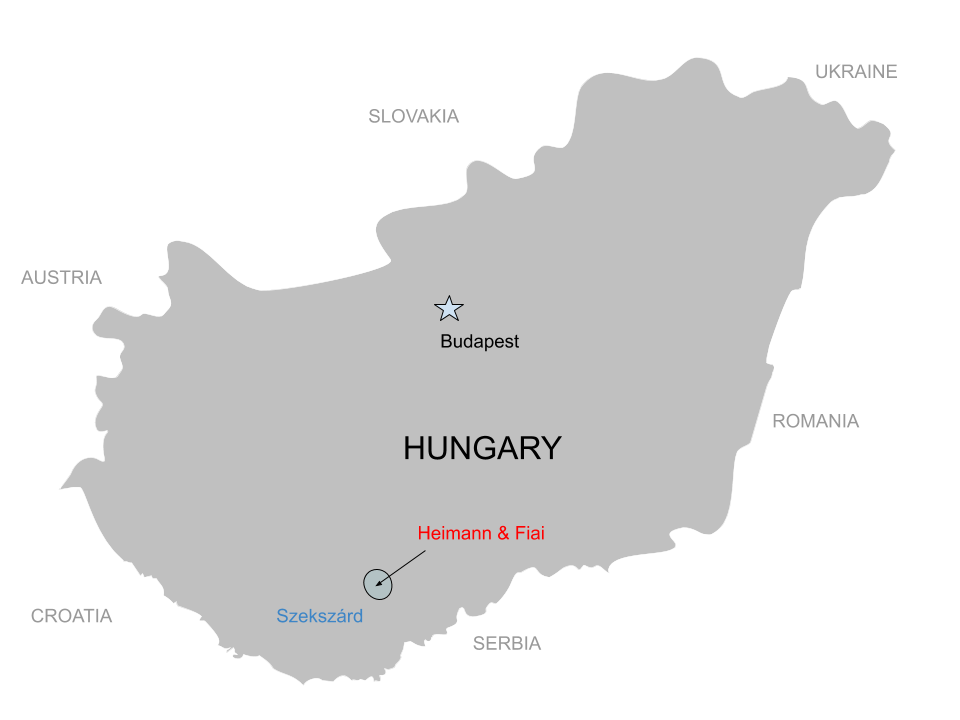 At a Glance
http://www.heimann.hu/
Szekszárd
Cool continental with dry warm summers
Mainly loess with Terra Rossa
150-260m
Rolling hills and valleys
Kadarka, Kékfrankos
Organic
Natural
The People
The 2018 vintage marks the beginning of a dual Heimann family approach. Heimann and Fiai (Heimann and Sons) and Heimann Családi (Heimann Family). The Heimann family has been pioneering in bringing many clones of Kadarka (and some Kékfrankos as well) back to life from the verge of extinction during Communism. This is a grape that once covered over 60,000 hectares in Hungary was less than 400 hectares in the early 1990s. Zoltán Jr. has been particularly drawn to this part of the business. In addition to spearheading Kadarka research and planting, Zoltán Sr. and his wife Ágnes had also built an impressive business centered around Bordeaux varieties, some Viognier, and even a little Sagrantino. These have been iconic wines for the estate and have shown fidelity to the Szeskzárd appellation for over 20 years.



With 20+ years of lessons learned about which clones work best and where they should be planted, it's finally become time for Heimann & Fiai to focus exclusively on Kadarka and Kékfrankos. Along with conversion to organic farming, the winemaking also reflects a different approach geared towards freshness and aromatics. Multiple passes for picking, using more whole clusters, open vat fermentation, less extraction, and moving the wine manually in lieu of pumps. All fermentation are spontaneous, zero fining, coarsely filtered if at all, and a minimal use of SO2 at bottling. They are also aging wines in clay in addition to Hungarian oak and stainless steel.

The Appellation
The Szekszárd appellation was originally established by the Celts, flourished under the Romans (Emperor Probus), continued under the Cistercian Abbeys, and even survived Turkish occupation due to the high tax revenue the wines generated. Once the Turks were pushed out, modern day Serbians were being pushed north by said Turks and brought the Kadarka grape with them. Up until this point, the appellation was almost entirely white wine. Since then, Kékfrankos and a variety of Bordeaux varieties (Cab Franc and Merlot mostly) have taken firmly to the region. These grapes in particular also survived under Communism while many of the native white and red grapes did not fair so well, namely Kadarka.
Backing up a bit, after the Turks were pushed out, the very wine savvy Swabians from southwestern Germany were also incentivized to resettle the area. Where the Serbians brought a key red grape, the Swabians brought superior winemaking skills. Their influence is still felt today. Case in point, the Heimann family is intensely proud of their Swabian roots and have been making wine here since 1758.
This sense of regional pride is alive and well with the current Heimann family as well. Zoltán Sr. is the acting Chairman of the Szekszárd Appellation. He is also a founding member of Pannon Winemakers' Guild and Vindependent. Ági, his wife, is the founding member of Pannónia Női Borrend, which puts on a wonderful series of cultural events. Zoltán Jr. is a member of Junibor Association of Young Winemakers. He has also studied viticulture and enology at Geisenheim, Montpellier, Bordeaux and Udine in addition to internships in Australia (Mac Forbes) and visiting top estates in Italy like Foradori. Zoltán Sr., Jr., and Ági are all active members of the Szekszárd Winemakers' Guild which gathers the best winemakers in Szekszárd to develop the region as a whole. In 2016 Heimann was chosen as the "Winery of the Year" in the Gault-Millau Guide.
Vineyards
Heimann farms roughly 23 hectares spread over the Baranya, Porkoláb and Iván Valleys in addition to some rare hillside plantings on Batti. The soil is overwhelmingly Loess in Szekszárd, but you can also find Terra Rosa (iron rich soil also dominant in Istria, Croatia) if you get deep enough. If you're approaching the appellation from the Great Plain to the East, you first hit the River Danube and then the first hills are Szekszárd. It's a fairly dramatic change in the landscape and an obvious place for multiple exposures. Currently most plantings are Kékfrankos with smaller amounts of Merlot, Cab Franc, Tannat, Sagrantino (from Umbria!) and now more than ever re-plantings of Kadarka are underway.
Winemaking
All fermentation are spontaneous, zero fining, coarsely filtered if at all, and a minimal use of SO2 at bottling. They are also aging wines in clay in addition to Hungarian oak and stainless steel.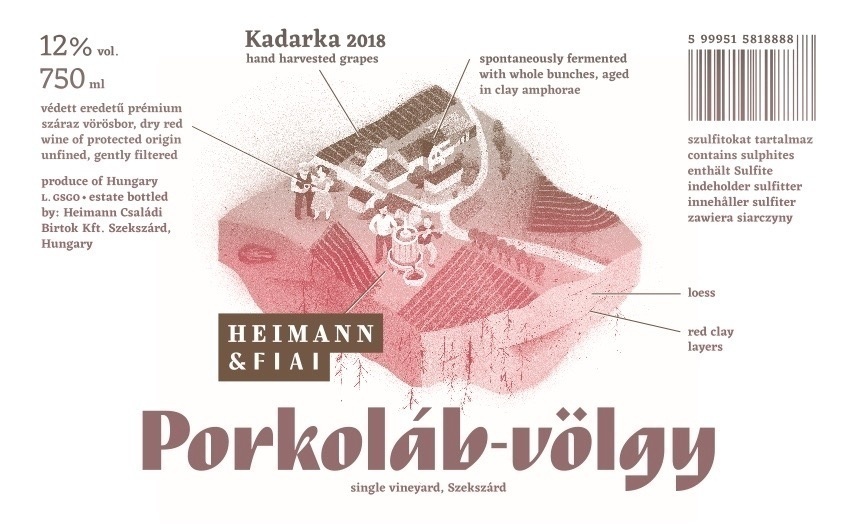 Kadarka;
12.4%
0.8 g/l
5.4 g/l
In 2012 the Heimann family planted 2 hectares with 3 specific clones (P123, P115 and P131) on the western facing and windy part of the Porkoláb valley. The soil is the typical loess of Szekszárd with the addition of iron rich red clay. Using no more than 30% whole clusters, the wine was fermented in open plastic vats, light extraction with twice daily punchdowns, 13 days maceration, and then aged in unlined clay vessels for 8 months. Compared to the Birtok, this single vineyard bottling is impossibly elegant and layered despite having less alcohol. Aromatically, it showcases the dried flower, herbal and spiciness of Kadarka.
---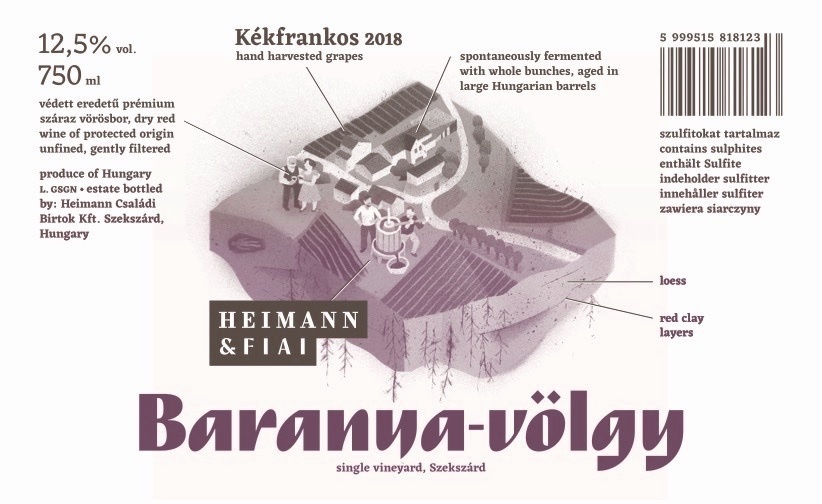 Kékfrankos;
12.5%
1.3 g/l
5.3 g/l
The 1 hectare Baranya-völgy is a warm southeast facing basin that looks out over the vast expanse of the Great Plains. Thick loess soils just over 200 meters above sea level, it gets warm enough here that lizards sunbathe on the clusters. Hand harvested the day after Zoltán's wedding, it was then spontaneously fermented in open vat wood and some plastic bins with 25% percent whole cluster for 22 days with 2 punchdowns per day. Instead of using pumps, the fermented marc was gently hand shoveled into the press to preserve freshness. The wine spent 8 months in large 1000L Hungarian oak (full malo) before being bottled without filtering or fining. 2018 was a warm and tricky vintage with both shriveled clusters and late rains, but with careful selection, handled gently, the natural acidity of Kékfrankos and a relatively short time in barrel, it's a great balance of ripe/spicy fruit and freshness. 3100 bottles produced.
---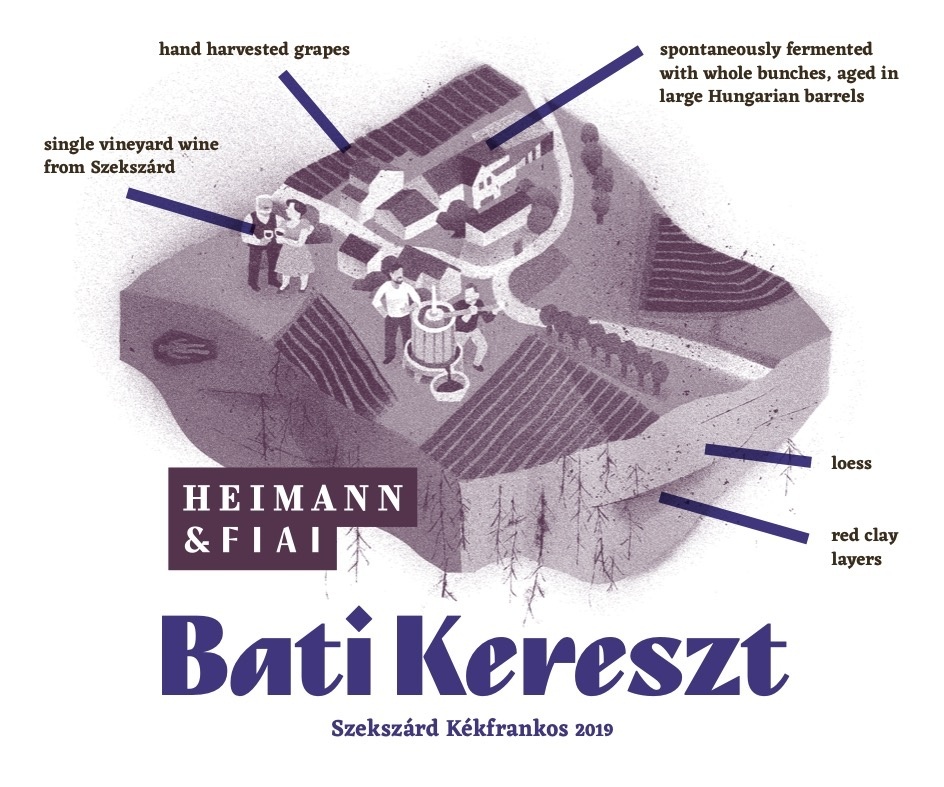 Kékfrankos;
14%
2.8 g/l
5.1 g/l
This Kékfrankos is emblematic of a red line that runs through many Hungarian reds. It's aromatic, spicy, refreshing, and counterintuitively has grip where you might otherwise expect more of a carbonic softness. It's also light in terms of weight without having that picked-too-earliness quality. Because of all of this, it does require some food in a way that the estate (Birtok) wines arguably do not. The Bati Kereszet vineyard is north facing, surrounded by forest, and so cool here that the fruit is always 2-3 weeks later than any other site. Maceration ranges from 5-22 days, light pump-overs, delicate pressing and zero pumps. All marc is moved by hand. Aged in both tank and barrel for 8 months. The 2-3 g/l or residual sugar is not felt in the texture at all (tannins are dry), but more like the subtle natural sweetness you get from roasted beets or braised red cabbage.
---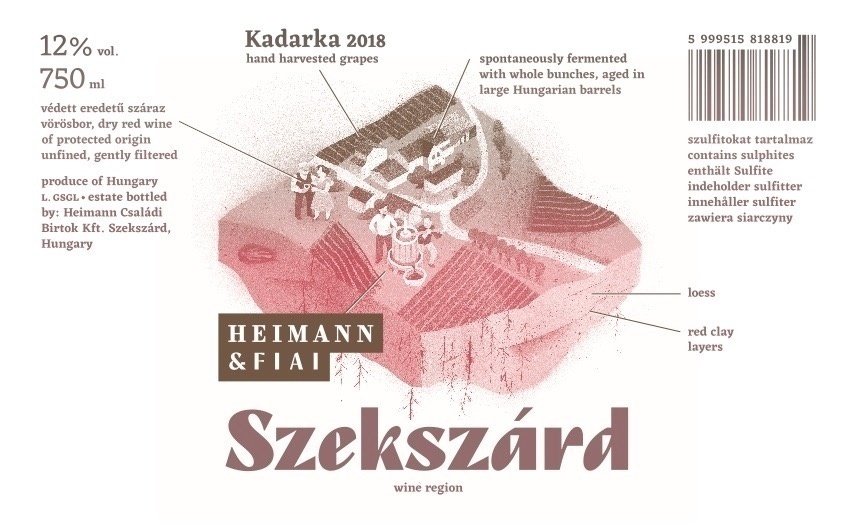 Kadarka;
11.7%
0.8 g/l
5.9 g/l
The Birtok (estate) comes from a variety of clones and specific sites. Clone P9 from Iván-völgy P123, P111, and P147 from the Porkoláb-völgy. Harvested at the end of August and into early September, fermentation was in large (5000-8000 liter) wooden and stainless steel open vats (partly whole bunches), 10-12 days of maceration, twice daily foot trodden and/or pumped over, then aged five months (full malo) in used oak. Think old school Poulsard albeit with Hungarian herbal cherry and spice. This is a light refreshing red in a whole new category.
---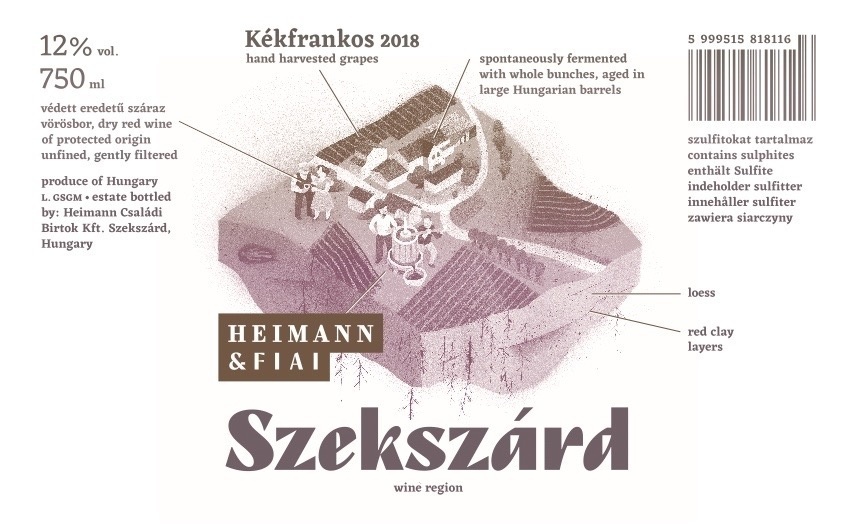 Kékfrankos;
13.3%
1.7 g/l
5.8 g/l
Typically harvested a week or two later than Kadarka, the Birtok (estate) Kékfrankos is sourced from younger vines in the Baranya-völgy and an exciting virgin vintage from the Csötönyi-völgy single vineyards. Similar to Kadarka, fermentation was in large (5000-8000 liter) wooden and stainless steel open vats (25% whole bunches), 20-25 days of maceration, twice daily foot trodden and/or pumped over, then aged 8 months (full malo) in used oak. With nearly twice as much maceration as Kadarka, there is far more texture and grip along with more fruit and earthiness to balance. This is a quintessential table red for the appellation in the best way possible.
---