With an immense respect for nature, viewing themselves more as expert gatherers rather than heavy-handed winemakers, and paying special attention to local varieties and winemaking traditions, the Batič family makes wines that honestly reflect the land and vintage.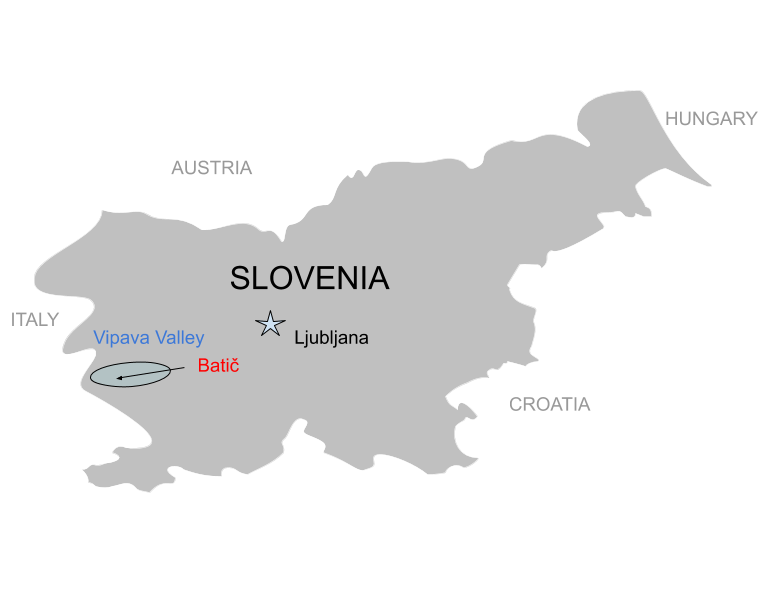 At a Glance
1592
http://www.batic.si
Vipavska Dolina
Mediterranean and Alpine
Marl, clay, flysch and sandstone
60-1500m
Narrow valley between the high Trnovo Forest Plateau and the Karst Plateau.
Pinela, Pinot Gris, Rebula, Cabernet Franc, Merlot, Cabernet Sauvignon
19 hectares
Biodynamic
Natural
The People
Founded in 1592, Ivan Batič and his son Miha make wine based on over 400 of years of experience. This history supercedes what's currently fashionable, and Miha was even forbidden from attending oenological school because his father feared it would cloud his brain. Not surprisingly, there is an undeniable faith in the supernatural and a keen sense of their relationship to it. Although they choose techniques like extended maceration at uncontrolled temperatures, indigenous yeast fermentation, and fermenting and aging in local Slovenian oak - nature and the heavens are the ones truly in charge.
The Appellation
Slovenia is wedged between Italy, Austria, Hungary, and Croatia with a tiny 40km stretch touching the Adriatic Sea in the southwest corner. Slovenia had its fair share of occupation, annexation and cultural influence ranging from the Roman Empire, Austro- Hungarian Empire, Germany, Italy, Croatia, and most recently, Yugoslavia. Slovenia became in independent country 1991.


The Vipavska Dolina (Vipava Valley) lies within the Primorje wine growing region of Western Slovenia right along the Italian border. The land enjoys both a Mediterranean and Alpine microclimate coupled with marl, clay, flysch and sandstone rich soil. Warm nurturing air flows in from the Adriatic and over the Friuli-Venezia Giulia plains while cool air rushes down from the Alps helping retain acidity and aromatics. Overall, the region is characterized by powerful mineral driven reds like Refošk, Bordeaux varieties like Cabernet Franc, Merlot and Cabernet Sauvignon (as is also common in neighboring Fruili), and a host of fascinating white varieties like Pinela, Pinot Gris, Zelen, Klarnica, Vitovska and Rebula.
Vineyards
The Batič family owns 19 hectares of vineyards in three villages (Šempas, Vogrsko, and Vitovlje) ranging from 60 meters up to 1495 meters above sea level - all Western facing. Despite this diversity, four dominant things characterize each parcel: vine density, wind, altitude, and soil heat.
The average vine density is roughly 12,0000 vines per hectare which forces roots to dig up to 15 meters straight down in order to reach nutrients and water. In addition to imparting a distinct mineral character, these deep roots also ensure consistent yields both in rainy and dry weather. Grapes are also trained to ripen at an average height of 0.5 meters. They are so close to the ground that ripening is not just the result of direct sun, but in large part due to soil heat. Only the Cabernet Franc is pergola trained because after generations and generations of experimenting, it just works.
Equally important, the Vipavska Dolina has a famed reputation for creating powerful thermal conditions ideal for parachuting due to the convergence of Alpine and Adriatic influences. The valley has been the host to the World as well as the European Parachuting Championships for years.
These thermal conditions (up to 10 meters/second) basically eliminate the presence of rot and a host of other vine diseases. In the higher altitude vineyards (1,300+ feet) no chemicals of any kind have ever been sprayed. In other locations where conditions would otherwise demands chemical application, Batič is instead the first winery in Europe to harness the power of fire and air with
PCS
(Physics-based Cropping System). Rather than attacking vine disease and pests with pesticides and herbicides, PCS blows air at 150 km/ h and at a temperature of 75 degrees among the vines. Pollination, natural funghi and a resilient canopy result leaving the vines with a strengthened natural immunity. Rather than fighting nature, they are mimicking what they already know nature does best.
Winemaking
The signature methodology of the Batič estate is knowing when and how to do nothing. Highly selective hand harvesting, extended maceration (particularly native white grape varieties), fermenting in open topped Slovenian wooden vats without temperature control, and only using indigenous yeast are the major means to this end.


While the rosé is made in stainless steal, all of the other wines see only Slovenian oak from primary through malolactic. All wines are bottled un-fined, often unfiltered, and in some cases bottled without additional sulfur (SO2). Lunar cycles and seasons are strictly observed and determine releases and bottling dates. If it's too cloudy for example, wines will not be bottled because there is too much interference between the wine and the heavens.
Cabernet Franc;
13.8%
2.6 g/l
5.82 g/l
After macerating for thirty days in an open topped oak vat without any additives, the Cabernet Franc was barreled down into Slovenian oak barrels where the wine slowly finished malolactic fermentation. Apart from topping barrels, nothing else was done until bottling. Phenomenal acid, a fine-grained texture, and a balance of fruity and savory flavors make this is varietally spot on Cabernet Franc with an elegant Slovenian twist. Traditionally paired with white polenta and foal, gamey meats, sweet herbs and hearty earthy flavors.
---
Malvazija;
13.5%
2.9 g/l
4.99 g/l
We have a difficult time saying no to aromatic grapes with a little skin maceration and aging. Malvazija already has a relatively thin skin and very little tannins to speak of. In concert with biodynamic farming which allowed for longer time on the vine (more disease resistant), the 2018 spent 45 days on the skins in 36 hectoliter oak barrels. Despite this length of skin time, it's not overtly tannic or drying, but instead gets rounded, juicy and the aromatics are there, but not blowing everything out of balance. Miha barely considers it a macerated wine, but rather a Malvazija with more of a "mouthful."
---
Pinela;
13.5%
3.5 g/l
4.83 g/l
Pinela is an ancient, indigenous grape and without question the most noble of the Estate. Without the unique climate of the Vipava, Pinela would not survive. Not surprisingly, Ivan Batič devoted his soul to this grape variety. Vines are planted only in the best terroirs and according to the old Vipava Valley winemaking tradition, macerated at an unregulated temperature for five days with its own yeast. It is then matured for twenty-four months in Slovenian oak barrels. Bottled in the time of the old moon this vintage is full bodied, textured, mineral driven, and shows a sophisticated spiciness. It's truly unique. The Batič family pairs it with the richness of duck, herbed egg dishes, and roasted fennel.
---
Pinela; Rebula;
11.2%
279.5 g/l
6.93 g/l
50% Pinela, 50% Rebula. Harvested in the middle of October, delicately put into wooden crates, and then left untouched in a dry and windy loft until April. On Easter, every grape is carefully inspected before pressing. It takes roughly 30 kilos of grapes to equal 1 liter of Valentino. The wine is then poured into Slovenian oak barrels and matured between one and a half to four years. Each barrel is bottled separately according to the lunar calendar.
---